NEWS
Britney Hits New Jersey, Takes Dancers Bowling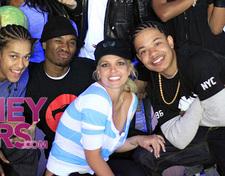 In two visits to the NYC area in the last week, Britney Spears' Circus tour has brought out the star power. First, Madonna slipped into the audience at Wednesday's show on Long Island. And then on Friday night, Fergie and, according to some concert-goers, Natalie Portman, made their way out to New Jersey for the festivities.
But the real fun for Britney and her hard-working dancers came after the show, when they blew off some steam by participating in a true New Jersey pasttime: Bowling.
Article continues below advertisement
According to an item posted on BritneySpears.com, the superstar took more than a dozen of the performers from her Circus tour out for some late-night bowling after their show at the Prudential Center in Newark.
The superstar singer even took a second to Twitter about the event: "Went bowling with my dancers last night. We had the best time. PS- I got a strike!"