NEWS
Britney & Jason Act Like Honeymooners in Hawaii!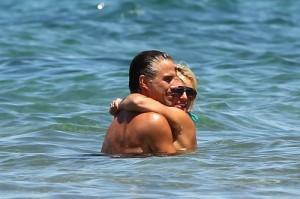 Looks like Britney Spears and boyfriend Jason Trawick skipped the wedding and went straight to the honeymoon! The happy couple enjoyed a sunny afternoon on the beach in Maui, Hawaii Wednesday, keeping cool in the crystal blue water! Brit showed off her toned beach body in a turquoise bikini, and Jason looked buff and bronze in his True Religion swim trunks!
Brit has been very busy and a vacation with Jason is just what the doctor ordered!
Article continues below advertisement
The pop princess recently filmed a guest role on the hit Fox series Glee and is diligently working on a new album.
Seems like a perfect time to plan a wedding.
In the latest issue of OK!, we delve into the famous Spears sisters' plan to hold the wedding of the century! Finally settled and happy (with boyfriends Jason and Casey Aldridge respectively) Britney and Jamie Lynn Spears recently discussed the potential details for an unforgettable double wedding!