NEWS
Britney & Lynne Spears Shop Till They Drop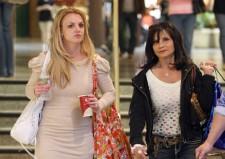 Britney Spears and her mom Lynne Spears shopped till they dropped yesterday at the Americana mall in Glendale, Calif. Judging by all the bags, looks like the ladies cleaned up well making stops at several stores including GAP, Barneys New York, Bebe and H&M.
Brit and Lynne have been spending a lot of quality mother daughter time — and for this outing they were without the boys!
Article continues below advertisement
All the shopping must have made Brit thirsty. The pop princess was juggling two drinks as she trekked to the large, luxury shopping mall!
OK! HOT GALLERY: BRITNEY SPEARS & HER SPIDER-MEN GO TO THE MOVIES
Wonder who was watching Sean Preston and Jayden James? Last week, Brit and Grandma took the boys to the movies.
The Spears are all about family bonding!