NEWS
Britney Spears Does Her Best Daisy Duke Impression, Fails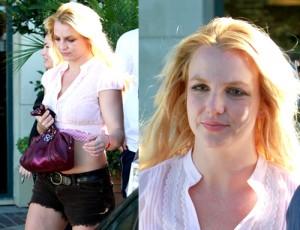 Britney Spears looked like a bigger mess than usual as she left an L.A. Barnes and Noble on Monday. Normally, Brit might forget to wear a bra, but at least she remembers the rest of her clothes — but not that day, apparently. As Britney went shopping, the singer sported a pink-lace crop top and barely there daisy dukes, showing off a good deal more skin than is typically seen in a book store.
In addition to her trademark ratty extensions and smeared makeup, Britney's face also appeared slightly red and swollen around her eyes and cheeks. Is the pop princess sick or could Britney's legal troubles with a former bodyguard be causing her emotional distress?
Article continues below advertisement
OK! GALLERY: BRITNEY SPEARS HAS OUTFIT INDECISION FOR THE BAJILLIONTH TIME
One of Brit's ex-protectors Fernando Flores has filed a suit against the star, claiming she sexually harassed him, in addition to other offenses. Britney's conservators believe Fernando might be using the case, which he wants to try in civil court, as a way to leverage Britney's personal information to extort a settlement out of the singer.