NEWS
Britney Spears Inspired Gwyneth Paltrow's 'Country Strong' Character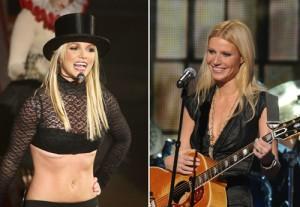 The alcoholic country music singer played by Gwyneth Paltrow in her latest film, Country Strong, wasn't inspired by a real-life country star — her character was inspired by pop music's most famous meltdown, Britney Spears, the film's writer-director Shana Feste told The Los Angeles Times at a screening of the film in L.A. recently.
OK! GALLERY: GYWNETH PALTROW STYLES A SLIT AT COUNTRY STRONG PREMIERE
Article continues below advertisement
"That's where this movie came from," Feste said at the L.A. Times screening. "I mean, I was seeing what was happening in the media to Britney Spears."
Britney famously broke down in 2007 when she shaved her head with clippers in rehab, shortly after ending her marriage with Kevin Federline. She publicly struggled with substance abuse in the months that followed, though she continued to produce critically-acclaimed albums like Blackout.
OK! GALLERY: BRITNEY SPEARS — MOOD SHIFTER EXTRAORDINAIRE
Feste also had another star with a tragic story on her mind when she was writing the film.
"I finished the script when Michael Jackson passed away," she said. "I think it's tragic how we treat people who give us so much, and we love to see them knocked down to build them back up again, to knock them down again.