NEWS
Britney Spears & Jason Trawick Mix Business With Pleasure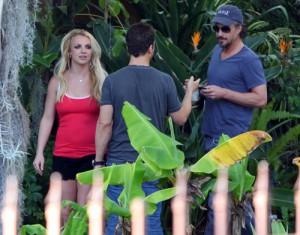 Even though "Hold It Against Me" is number one on the charts, Britney Spears is still working as hard as ever in the studio. The singer was seen leaving a recording studio with Jason Trawick on Monday in Calabasas, Calif. and bidding adieu to a friend. Britney reportedly gave her pal a great big hug before leaving. Once they left, Jason stopped to reward Britney by picking up some treats!
Article continues below advertisement
Britney and Jason stopped at a Rite-Aid to pick up some snacks after a hard days work.
OK! GALLERY: BRITNEY SPEARS IS ALL BUSINESS IN WEST HOLLYWOOD
After Kanye West made a "joke" on his Twitter that he "let" Britney be No. 1 on iTunes, Britney's web site manager, Adam Leber, Tweeted back, "Thanks for "letting" us be #1. Much appreciated..."
Since then, Kanye has Tweeted several explanations and defended his "joke."
Do you think Kanye's Tweet was really just a joke?