NEWS
Britney Spears' Milkshake Run Brings the Paparazzi to the Yard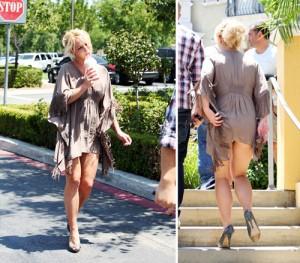 Is that a shirt, or a dress? Doesn't matter, at least so far as Britney Spears is concerned. We've gotta admit, we're happy to see her out of the house in something other than a tank top and cut-off shorts, even if her shirt/dress was a bit too short to be considered a perfect choice. Whatever the case, Brit looked happy with her milkshake in L.A. on Thursday.
OK! GALLERY: BRITNEY SPEARS (SANS STARBUCKS!) FRESHENS UP HER LOOK
Article continues below advertisement
Although her hair was up in her usual messy ponytail, it seemed the Britster was making an effort to dress up with the flowing dress and some pumps.
OK! GALLERY: BRITNEY SPEARS RUNS THE GRIMACE & GRIN GAMUT OF EXPRESSIONS
Her expression was pretty serene and happy too, another happy change from the odd range of facial expressions she's been sporting lately. Keep up the good efforts, Brit!