NEWS
Britney Spears Misses Conservatorship Status Hearing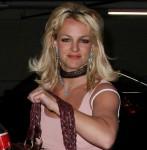 Although she had a status hearing regarding the conservatorship currently ruling her life, Britney Spears seems to have missed a pretty important meeting involving her case — namely, a status hearing scheduled for today at 1:30 p.m. PT.
As the hearing was supposed to start, an eyewitness tells OK! Brit was at gay bar The Abbey in West Hollywood, and grabbed a cheeseburger and soda with her bodyguard before heading home. But that's not everything she did today!
Article continues below advertisement
"Britney started the day by shopping on Robertson at Vionnet Boutique. She bought shorts and mini skirts," an eyewitness tells OK! of how Britney spent her morning. "She was wearing a mini skirt and when it blew up in the air, photographers got shots of it."
OK! GALLERY: BRITNEY SPEARS GOES FOR A FEW RETRO NO-NO'S
Oh yeah, and the the insider tells OK! Britney wasn't wearing underwear during her Marilyn Monroe moment, and simply smiled and waved to the assembled photogs. Yikes.
Meanwhile, her conservatorship lawyers were in court with Commissioner Reva Goetz, trying to prove to that Britney deserves her freedom. Too bad the law says Britney must be there in person to speak to the commissioner. This means her lawyers can only present her status report, which they're in the process of doing.
OK! GALLERY: BRIT & JASON VISIT L.A. MEDICAL BUILDING
Not a good sign, as Britney missed her status hearing last month as well. At the time her conservator lawyer said "all parties were not ready" to proceed.
However since all "parties" except the Britster herself were there, it's not a huge secret who the unready party could have been.
C'mon Brit, we thought you were totally over having someone else control your life! And add underwear to your daily "to do" list.