NEWS
Britney Spears Rocks Out With Her Pockets Out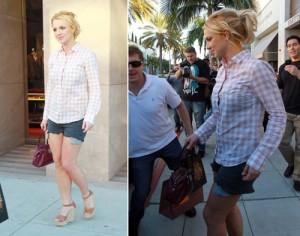 Well, this is awkward. Brit, it seems your pockets have escaped your shorts. Oh, wait, Britney Spears is doing that on purpose? Even more awkward on our part! Brit seems fond of the cut-off shorts look, to say the least, and once again paired her denim look with some platform heels and messy ponytail while out shopping in Beverly Hills on Tuesday.
OK! GALLERY: BRITNEY SPEARS DOES HER BEST DAISY DUKE IMPRESSION, FAILS
Article continues below advertisement
We can't imagine the Britster ever moving somewhere with actual seasons, because then how could she wear shorts all year round?
OK! GALLERY: BRITNEY SPEARS HAS OUTFIT INDECISION FOR THE BAJILLIONTH TIME
While she sometimes looks a bit harried or hastily put together, we've got to admit that Brit seemed quite calm, cool and collected, even when faced with the hordes of photographers that inevitably accompany her on her public outings.