NEWS
Britney Talks!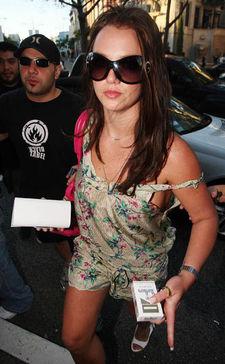 Britney Spears got on the phone today and talked with Ryan Seacrest on his morning show. When asked how she spent her album release day she said, "It was cool. It was laidback really. We watched movies. That's about it. We had fried chicken."
Though bffs Alli Simms and a male friend were also on the phone, nobody could remember what movies were watched. Ryan tried to delve deeper into the mind of Britney. He asked what it's like to have her life constantly scrutinized. "I try not to let it get to me," she said, "People talk. You try to keep doing what you do as long as you know what's up and you know what's true then that's all that matters."
Article continues below advertisement
And he further prodded, wondering if the bad mom allegations bugged her. She kept the answer the same saying, "People say what they want and do what they do. It's sad how cruel the world can be. At the end of the day you have to know in your heart you're doing the best that you can."
As far as being a good mom, Britney thinks she's doing just fine. Yet she wasn't sure how often she'd be seeing her kids citing that her lawyers knew all that.
She admitted this is her big promotion for her new album, Blackout. And told the world what her favorite song is, "Oh god... 'Heaven on earth.'"
It seems Britney, who left the interview early to shower Alli told everyone, is living her version of "Heaven on Earth."