NEWS
Britney in Trouble with PETA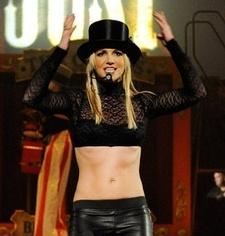 is lashing out at another celebrity for what it calls a violation of animal rights.
On Monday, the People for the Ethical Treatment of Animals attacked Britney Spears for using captive elephants in her new music video "Circus." In a statment, a rep for PETA writes:
"As Britney is such a victim of the paparazzi and always complaining and crying about how she hates to be held up in her guarded house and can't feel free, she of all people should be able to relate to the horror that captive animals go through when they're used for entertainment. Except when Britney chooses to perform, and the lifestyle just comes with it. Animals are ripped away from their mothers at a young age, kept in chaines and prodded with electric shock devices to make them perform."
Article continues below advertisement
No word yet from Britney's camp. The singer has used live animals before in her performances. When she performed her song "I'm a Slave For You" at the MTV Video Music Awards in 2001, the singer danced with a giant boa constrictor around her neck.