NEWS
Britney's Bizarre Day In and Out of Court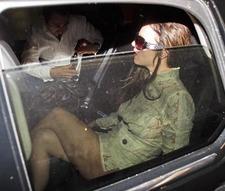 What is it about Britney Spears that prevents her from being able to get through an important day without throwing her world into disarray? And one would think that — faced with the possibility of losing her children — even the most haphazard of celebrities would be able to pull herself together long enough to make it to court to plead her case.
Here is OK!'s detailed timeline of Monday's bizarre events.
Article continues below advertisement
5:00am PT: Four hours before the hearing is set to begin, satellite trucks and reporters begin staking out their spots outside the L.A. Superior Courthouse.
9:00am — 9:15am: Britney's ex-hubby Kevin Federline, sporting a freshly cut mohawk haircut and his lawyer Mark Vincent Kaplan, enter the courthouse through the garage. And while an LAPD officer tells OK! that the pop star will get "no special treatment" from the cops, a police cruiser is spotted heading up toward Britney's house inside her gated community.
9:30am: The proceedings begin, sans Britney, with the testimony of LAPD officer Douglas Bowler. Meanwhile, Brit has still not managed to leave her home.
12:05pm: Court adjourns for a lunch break, during which a court officer tells OK! that the court is "concerned" about Britney's absence and even goes so far as to ask the gathered reporters if the singer is on her way to the courthouse.
1:10pm: Britney finally arrives at the courthouse — or at least the courthouse garage. In a black Cadillac Escalade driven by pal Sam Lutfi, Britney sits in the back seat with boyfriend, married photographer Adnan Ghalib, as they circle the courthouse's public parking garage looking for a spot. The star was not granted access to a more private parking area because of the ruckus her presence has caused in the past. Meanwhile, Lutfi slows the car down periodically so Brit can smile for the awaiting cameras.
Article continues below advertisement
1:25pm: The Escalade pulls into the monthly parking lot underneath the courthouse, where Britney first exits the vehicle momentarily, only to hop back in. The troubled mother of two was reportedly visited by her lawyers at this point.
1:30 pm: Court reconvenes with the testimony of another LAPD officer, Eric Martin.
1:45pm: After one more failed attempt to enter the building from the street in front of the court — Britney stepped out of the car with Sam urging her to go into court while Adnan told her to not go in — Brit and her entourage leave and appear to be driving home to The Summit.
2:00pm: Instead of going home, Britney stopped in quickly at The Little Brown Church, where the singer has a mini meltdown (). She then heads to nearby restaurant Gaucho Grill with Adnan and Sam for some food. Witnesses tell OK! that Brit appeared to have cried off all of her makeup, and when she left the restaurant, "needed help standing and walking."
3:45pm: Britney and Adnan return to her home at The Summit while Sam Lutfi makes a quick run to Starbucks.
Article continues below advertisement
4:45pm: The court, after hearing testimony from six witnesses, including the two officers, K-Fed, the court-appointed parenting coach and the court-appointed visitation monitor, elects to not wait another day to possibly hear testimony from Britney and hands down its decision — Britney's visitation privileges remain suspended and a date of Feb. 19 is set for the next hearing in the matter.
4:50pm: Kaplan gives a brief press conference, stating that although his client is pleased with the judge's ruling, "there is no joy in this for anyone."
5:00pm: With Adnan driving, a sobbing Britney, dressed in a different outfit, comes barrelling out of The Summit gates, driving recklessly for several miles to a Rite-Aid pharmacy on Santa Monica Blvd. and La Brea, where they wait impatiently for a prescription to be filled. "They were driving like maniacs," one witness tells OK!.
5:20pm: The couple leave the Rite-Aid, where Adnan, who only weeks ago was one of the dozens of photographers constantly on Brit's tail, shoves a handful of paparazzi to the ground. Instead of heading home, or stopping at the dozens of Starbucks on the way, zig-zagged 35 miles through the hills to a Starbucks on Ventura Blvd. and Coldwater Canyon.
6:10pm: Britney and Adnan return — for now — to her home behind the gates of The Summit.