NEWS
Britney's Comeback Plans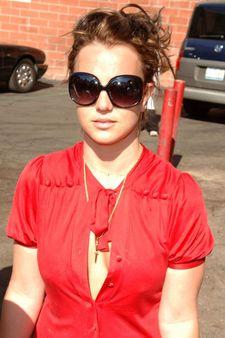 Gone are the pink wigs, ratty hair and fake british accent the world has come to associate with Britney Spears. In their place, a fresh faced, natural brunette who has been reporting to work, making regular visits with her sons and seems, in general, to be focused on taking her life back.
On March 24, the once reigning pop star made a highly anticipated cameo appearance on the CBS sitcom How I Met Your Mother. Her performance was so good, she managed to wow not only the audience, but her co-stars as well.
Article continues below advertisement
"The only thing scandalous about this is how un-scandalous it all is," says HIMYM co-star Josh Radnor, of Britney's appearance on the show.
Playing Abby, the nerdy receptionist, the bit part is just one of the baby steps the singer seems bent on taking to get back in fighting form. As she begins to rediscover herself, she seems to also be rediscovering her love for dance.
In addition to teaching kids at Millennium Dance Complex, the singer has been rehearsing alone, stopping in for two hours at a time to learn a chair routine for her new song, "Hot as Ice." Sources say Britney may even want to open her own dance studio in the future and is considering The Dome, a 25oo sq. foot section of Millennium, currently closed.
Even Brit's father, Jamie Spears, seems to be loosening up on his rules -- a bit.
"Britney is addicted to driving," an insider tells OK!. "Initially, her father wouldn't let her drive at all, but he knows how much she loves it and it calms her, so he's softened the restriction. He now lets her toodle around the block in her gated community."
For more on Britney's comeback, pick up the latest issue of OK! — on sale everywhere on Thursday.