NEWS
Britney's Hair Undergoing Yet Another Makeover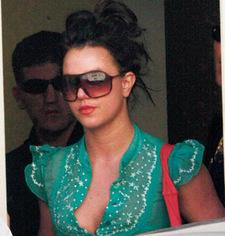 From blonde to black to bald, Britney Spears' hair has seen it all. And today the pop idol's hairstylist, Kim Vo, revealed to OK! that he has just given the superstar a whole new look.
Kim, who will also be a judge on the next season of the Bravo reality show Shear Genius, has been the one responsible for Britney's hair for quite some time — he even did her coif for her famous guest-starring gig on How I Met Your Mother. And with Brit-Brit confirmed to make another appearance as Abby the receptionist, he's revamped her look once more.
Article continues below advertisement
"Last time we gave her that simple look," Kim explains. "Now it's geek-to-chic. We're going to keep up that glamorous look... We've been adding a lot of blonde pieces."
And while Britney has been known to alter her 'do on a whim, Kim said that this time the hit CBS show is actually behind the style change.
"I was honestly shocked she did it again," Kim says about Brit's decision to revisit the role on HIMYM. "She had a great time. I'd love to see her break into something else. I think people want her to make it back."
As how Britney, whom Kim calls "truly a sweet soul," he admits that "she's very vulnerable." On the bright side, he also says that she is "calm, serene, peaceful" at home and cooks a great chicken!
"Her first focus is the kids," he adds. "But like any 26-year-old, she's gotta work. You'll go crazy if you stay home all day!"