NEWS
Britney's Holiday Message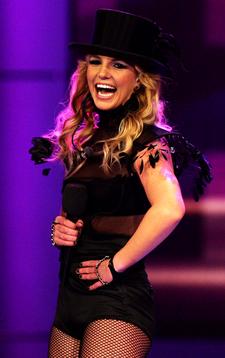 A cheerful, smiling Britney Spears is such a change from the formerly troubled, umbrella-swinging Britney of last year, and we just can't get enough!
Luckily the comeback queen has been indulging fans lately with plenty of the happy Britney, appearing on TV specials and releasing videos for her latest album, Circus, which Jive Records predicts will be #1 on the charts next week.
And now Brit has taken to her official web site to thank her fans directly, posting a video message to send her best holiday wishes, standing in front of a big Christmas tree with Sean Preston and Jayden James.
Article continues below advertisement
"I wanna wish everybody out there a Merry Christmas and a Happy New Year," she says in the video, holding Jayden, "and I want to thank all of my fans for making my album Circus #1. Thank you!"
Watch the video below: