NEWS
Britney's Hospitalization Won't Help Get Her Kids Back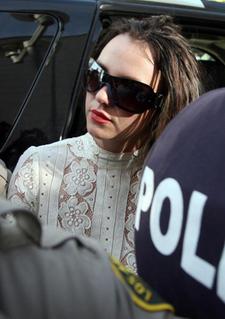 Early Thursday morning, made her second trip to the hospital in a month, and now she is on a at UCLA Medical Center. Brit's first visit came on Jan. 4 following a four-hour standoff with authorities after the singer refused to hand 1-year-old Jayden over to her ex-husband Kevin Federline. The next morning, the court stripped Britney of all her visitation rights and has only recently gotten back her privilege to speak to her sons, Jayden James and Sean Preston, over the phone.
Article continues below advertisement
As Britney had been expected in court next week to ask the judge for "monitored, therapeutic visitations" with her sons, OK! spoke with Judge Lynn Toler, of 20th Television's Divorce Court, to determine how this latest news might impact her fight for custody over her boys.
"Whether or not she was voluntarily committed makes a difference," explains the judge. "If she went in on her own, it would emphasize that she is actively seeking assistance. If she's on an involuntary hold, it's pretty clear she has an inability to care for herself. And as such she should not have custody or visitation without supervision."
The judge also thinks those who criticize K-Fed as being too harsh aren't seeing the whole picture. "Any parent would do the same thing. If their spouse or former spouse is behaving in a way that they can't take care of themselves, any parent would say they wouldn't want their children around that. But that doesn't mean that they shouldn't have access to her children." However, allows Judge Toler, "things may change over the year."
So how should Britney's lawyers proceed given these latest developments? "If I was them, I'd probably move for a continuance," explains the judge. "When everything is in flux and up in the air, you want to make an assessment of the psychological assessment. There's no particular urgency in having that hearing next week — the kids are safe with their dad — so time may be the best thing."