NEWS
Britney's Toxic Trio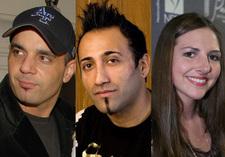 As Britney Spears continues to cool her heels under the supervision of her father Jamie Spears, there are a trio of former bad influences — former constant companion Sam Lutfi, boyfriend Adnan Ghalib and her party-girl cousin Alli Sims — biding their time, waiting for the day when the pop princess is unleashed.
First up is Brit's former shadow Sam, whom OK! can report has gone from riding the singer's coattails to fixing leaky plumbing and broken windows as the superintendent of his rundown condo in Venice Beach, Calif. Britney's dad has attempted to erase Sam from his daughter's life by seeing to it that the restraining order against him is enforced to its fullest. However, Sam insists exclusively to OK!, "I'm a good person, and all that matters is that Britney's getting better."
Article continues below advertisement
Sure...
Of the three, Adnan, Brit's notorious paparrazo beau, is the one who has the most contact with her and is the only one who gets to see her in the flesh. "She can call and text him," a Spears family insider tells OK!. "But Jamie has limited his physical appearances in the house." In fact, the swarthy photog has reportedly been turned away at the gates of Brit's private community, The Summit, at least twice.
Earlier this week, Adnan even took to the Internet to proclaim his undying affection for Brit and to also say that he's never cheated on her "or any of my past relationships." We think his wife might have something to say about that...
Rounding out the trio is Britney's fame-hungry cousin-about-town Alli, who had been using her family member to push herself into the spotlight. Except, as soon as Brit was committed for the first time this year, Alli was on a plane to New York City to "work on her album."
Immediately following Brit's release into her father's care, the singing superstar was banned from texting Alli. However, Jamie has recently decided to permit brief phone calls between the pair. "Alli agreed not to be in communication with her close friend Sam Lutfi in order to be granted permission to call and text Britney," the insider tells OK!.
Only time will tell if Britney is able to succesfully avoid the tempting lure of her former party posse, or if this time in relatively quiet lockdown has helped her to see who really has her best interests in mind.