NEWS
Britney's "Virgin" Tour Partner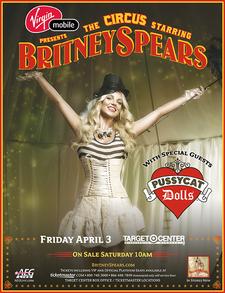 One last hurdle in getting Britney Spears' upcoming "Circus" tour out on the road has been cleared — the pop superstar now has a corporate sponsor, meaning she's got help to pay for all those backup dancers and elaborate sets and costumes.
It was announced on Brit-Brit's official site late Wednesday night that the singer is partnering with Virgin Mobile for her first tour in almost half a decade.
"I'm thrilled to partner with Virgin Mobile on my tour," the comeback kid said in a statement. "They will have cool opportunities for my fans and me to connect, and they'll bring a lot of excitement to the tour."
Article continues below advertisement
And it seems like the Virgin folks are pretty happy about the deal too. "Britney's draw is undeniable and her show is sure to be one to remember." said Bob Stohrer, Chief Marketing Officer, Virgin Mobile USA. "We'll provide special access and exclusive opportunities for our customers and her millions of fans including behind-the-scenes events."
One of those "special opportunities" is the chance for some lucky Britney fans to attend the final private dress rehearsal in New Orleans on March 2, the day before the first show of the tour.
<a href="http://www.okmagazine.com/pixandvids/gallery/9358/" target="_blank"><img src="https://farm4.static.flickr.com/3421/3182836679_6480ed7f7f_o.jpg" width="427" height="69" alt="brit" /></a>