NEWS
Brits Angry Over Keira's 'Diana' Sales Ploy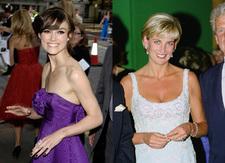 If there's one thing you don't mess with in Britain, it's Princess Diana.
But the executives behind Keira Knightley's new movie don't seem to have figured that one out somehow.
So they're selling The Duchess by drawing comparisons between Keira's character and the tragic princess, reports the MailOnline site.
And the Brits are NOT happy!
The strapline for the film is, "She won the people's hearts, but could not follow her own," an obvious reference to how Diana (A.K.A the People's Princess, A.KA. the Queen of Hearts) was pushed into a marriage with Prince Charles, who left her for another woman.
Article continues below advertisement
The trailer for the movie, in which Keira plays an 18th aristocrat who falls in love with a man who is not her husband, is filled with images of Diana, who was killed in car crash in 1997.
And they even have the cheek to use the phrase, "There were three people in that marriage," which is how Diana described her relationship at the time when Charles was having an affair with Camilla Parker Bowles.
The tacky ploy has gone down so badly in the U.K. that Keira was hauled onto the heavyweight news show Channel 4 News to explain it.
But Keira wasn't going anywhere near the scandal.
"Marketing is nothing to do with me - you are going to have to ask whoever it was at the film company that thought that that was a good idea about that one," she told the show.
A spokesman for Pathe, the studio behind the movie, released September 19th, said: "The trailer simply reflects historical fact."