NEWS
Brit's Family Back in Control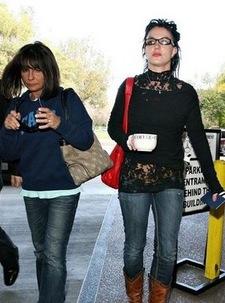 After a long afternoon in court, a Los Angeles court commissioner has granted Britney Spears' father, Jamie Spears, temporary control over his daughter's medical and financial affairs (watch video ).
OK! can confirm that Britney's medical condition and any decisions regarding her treatment will now be overseen by her father in conjunction with her doctors. The affairs of her estate will be handled by both her father and court appointed attorney, Andrew Wallet.
Article continues below advertisement
As for Sam Lutfi, Britney's self proclaimed "manager" has reportedly been shut out of her life. The commissioner granted a "Civil Harassment" restraining order against Lutfi that's good for the next 21 days. If he goes near the hospital, or near any of the Spears, the family can have him arrested.
The court ruling also gives Brit's father the authority to change the locks at her home, cancel her credit cards and keep 24 hour security around her. Brit's father can also restrict who visits Britney, at the hospital and at her homes. (Britney also has homes in Malibu and Miami.)
During today's hearing, the court declared Britney a "flight risk" and "at risk for kidnapping" and ordered that she remain in California until the date of her next court hearing, set for Feb. 4. At that time, the court will decide whether Jamie Spears will become permanent conservator over his daughter's affairs.
Britney Spears' parents Lynne and Jamie went to court today to ask a judge to create a conservatorship, which would allow them to make the final decisions over their daughter's medical and financial matters.
According to a source inside the court, the Spears' request for conservatorship — comprised in a two-inch thick document — alleges that Britney is no longer capable of managing her own affairs.
A story on TMZ claims that Brit's folks are unhappy with the control her friend and nearly constant companion Sam Lutfi has attempted to exert over the pop singer's life.
Sources close to Sam confirm to OK! that there has been conflict between Lutfi and the elder Spearses, claiming that Britney does not want to see either of her parents and so far has only granted permission for visits from Sam and her cousin, Alli Sims.