NEWS
Brittany Murphy Died in House She Bought from Britney Spears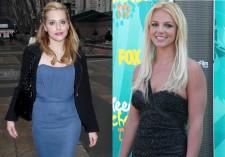 As the investigation into Brittany Murphy's sudden death continues, information has surfaced that the starlet's L.A. mansion previously belonged to another famous Brit. Britney Spears owned the Beverly Hills home that Murphy passed away in yesterday morning, Radar Online reports. In fact, Britney bought the property in January 2001 for $2,975,000 as her first owned home in L.A.
Spears bought the Rising Glen property through her Coastal Operatives LLC, and two years later in 2003, Brittany Murphy's Nina Bow Trust acquired the property for $3,850,000.
Article continues below advertisement
Britney lived in 8,000-square-foot Mediterranean-style house while she was still dating N' Syncer Justin Timberlake. The 1.29-acres of land (consisting of two separate lots) that Brittany Murphy shared with screen writer husband Simon Monjack, is situated at the end of a long, private drive in Beverly Hills.
At approximately 8:00 am Sunday morning, emergency services were called to the L.A. home of the 8 Mile actress and her husband Simon Monjack after she went into an apparent cardiac arrest. Despite multiple attempts, Brittany could not be revived and was pronounced dead upon arrival to Cedars-Sinai Medical Center.
An autopsy is being performed on the actress today. Criminal intent has been dismissed; however, investigators have not ruled out a possible drug overdose.