NEWS
Brittany Murphy Warned By Director About Her Husband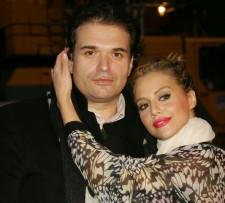 Factory Girl director George Hickenlooper and friend of Brittany Murphy said he warned the actress about her husband Simon Monjack and his alleged fraudulent behavior, the NY Daily News reports. George wrote in a Hollywood Elsewhere post, "The last thing I told Brittany is: 'Do you know this guy? I mean do you really know him? Do you know what you are doing by marrying him?'"
"At this point, Brittany became angry and told me she knew Monjack better than anyone and then hung up on me," he said in the post. "A few months later I tried to phone her to see if she was alright and Monjack would not let me speak to her."
Article continues below advertisement
George went on to say that the British screenwriter's IMBD credit for Factory Girl, a film George had considered Brittany for instead of Seinna Miller, is a complete lie.
"Simon Monjack had nothing to do with Factory Girl," he wrote after Brittany's death. "He filed a frivolous lawsuit against us. . . making bogus claims that we had stolen his script. He held us literally to hostage and we were forced to settle with him as he held our production over a barrel."
He also said he had posted those allegations two years ago, but took them down from IMDB after Brittany begged him to.
Simon said he's never even met George and refuted his claims.
"I wanted to make Factory Girl many years ago," Simon told a British tabloid. "What is being said is not true. I guess everyone deals with their grief in a different way — his is expressing his anger."