NEWS
Brittany Murphy's '8 Mile' Co-star: She Had a Heart 10 Times Her Size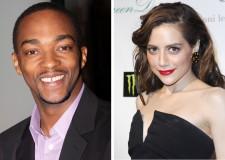 Brittany Murphy's 8 Mile co-star Anthony Mackie shared his memories of working with the late star with OK!, and had nothing but good things to say.
"Brittany had the heart that was 10 times her size," he told OK! at the New York Film Critic's Circle Awards last night. "And anybody you talk to will tell you that."
We knew and loved her for her films, but not many of us had the pleasure of knowing her personally.
Article continues below advertisement
"Brittany was an amazing girl," Anthony shared about the real Brittany. "We had a great time shooting 8 Mile, and every time I saw Brittany after 8 Mile, she hugged me, kissed me on the cheek, told great jokes."
Though filming together came to an end eventually, his friendship with Brittany did not.
"Eight years after that, we were still close friends," he explained. "When she was shooting in New Orleans last year, we went out and had drinks. She didn't have to do that. Brittany had a heart that was 10 times her size, and anybody you talk to will tell you that."
Anthony viewed Brittany as a genuinely happy person all the time and admired her for having that quality.
"I've never seen her not happy. That was the thing," he shared. "Every picture I took that smile she had was genuine. That's why everybody fell in love with her, because you saw that glow, that shine that she had. Not a lot of people have that."
Brittany made the most of whatever she was given.
"There are a lot of unhappy people, and whatever hand she was dealt, she dealt with it," Anthony explained. "I think that's commendable."
Reporting by Valerie Nome