NEWS
Brittany Murphy's Husband Objects to Autopsy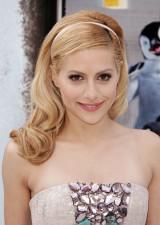 After being rushed to the hospital in an ambulance, Brittany Murphy was taken to Cedars- Sinai hospital in L.A., where TMZ reports that her husband, Simon Monjack, told hospital staff he did not want an autopsy to be executed on his wife.
According to sources at TMZ, Simon declined performing an autopsy after Brittany was declared dead on Sunday afternoon.
Although he was against it, the L.A. County Coroner's Office will go ahead with the procedure according to TMZ.
Article continues below advertisement
Unable to revive her from cardiac arrest, TMZ reports that her mother, who found the starlet in the shower this morning, told paramedics that her daughter had a history of diabetes.
It has not be confirmed if Brittany's condition could have contributed to her death in any way as of yet.