NEWS
Bromancer Using Rihanna?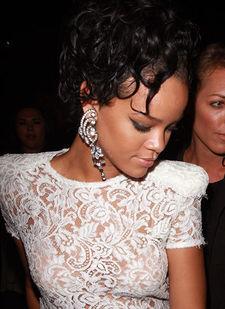 After Rihanna and Frankie Delgado were spotted together at L.A. hotspots last week, many a jaw dropped in surprise. Seriously: Rihanna, hugely succesful and sought-after pop princess, and Frankie, barely recognizable "star" of Bromance. Seem like an odd couple?
According to RiRi's friends, the MTV reality show alum did his best to engineer the sighting.
"Frankie is total bullbleep and is now using her to try and get press on himself," a source tells the New York Post. "He got her to come to Le Deux sic and then sold her out so he could see his name in print. He even told people she was dancing on tables -- which is wrong."
Article continues below advertisement
We can practically hear the collective sighs of relief.