NEWS
Brooke, Amanda, Blake, Kristin say 'Viva La Cure'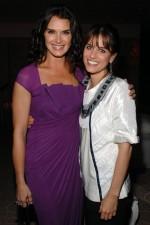 Celebs take to the pink carpet set atop the ice at NYC's Rockefeller Center for Viva La Cure, which benefits the Entertainment Industry Foundation's Women's Cancer Research Fund. As ice skaters glide by, appetizers such as bite-sized cheeseburgers and white chocolate-dipped strawberries make the rounds.
A glam gal waves hello. "I know you!" she says. I tell her I'm from OK!, and she says I did a story about her. Turns out it is America's Most Smartest Model host Mary Alice Stephenson. We had a long chat on the red carpet at VH1's Save The Music gala recently. How funny. She offers to introduce me to her friend Brooke … Shields that is. Wow! We nosh on heavenly cupcakes, and hey here's Gossip Girl's Blake Lively. As Brick House plays in the background, the 20-year-old star tells me she wants to take to the ice. "I asked if they would give me ice skates, and they said 'no,'" she tells me. "They think I'm going to hurt myself. I kind of have an ice skater outfit on. I'd be really good."
Article continues below advertisement
Everyone can't wait to pick up the Juicy Couture "Viva La Cure" t-shirt, but first and foremost on their minds is curing cancer.
Beth Ostrosky, Howard Stern's fiancée, urges women to get early detection. "They found a lump in my breast, and I had it checked out and everything was fine, but what if it wasn't?" she says.
Amanda Peet says she is here because several family members have passed away from the disease. Gretchen Mol adds, "It's such a scary illness that affects so many people. It's time to find a cure for this damn thing."
"The more research we do, the more we know," Gossip Girl's Kelly Rutherford tells me. On the lighter side, she adds, "I always thought it'd be fun to be a journalist because I want to interview everyone I meet. My husband's like 'stop staring, you always ask everybody a thousand questions.'"
And here's Kristin Davis, who is missing her dog. "I hate to be away from my pet," she says. "I still have the mother of my puppy. Once you get them, you don't want to part with them."
Around 9 p.m., Brooke and Mary Alice hop into a black limousine, and head off into the night. It's a wrap.