NEWS
Brooke Burke Hobbles to DWTS Lead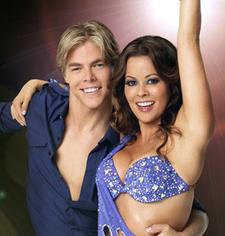 She may have a tender foot, but Brooke Burke is still leading the pack on Dancing With the Stars in the fifth week of competition.
Only one day after a rehearsal mishap sent her to the hospital for X-rays, Brooke and partner Derek Hough got the highest score of the season — 29 out of 30 — for their jitterbug.
"There's no fracture. I bruised my bone and hurt my tendons a little," Brooke explained after Monday night's performance show. "I'm just going to be on anti-inflammatories and ice for the next week or so and hopefully it will get better."
Article continues below advertisement
She added, "Everybody's getting hurt!"
And how! This season, Misty-May Treanor dropped out after rupturing her Achilles tendon and Jeffrey Ross hurt his eye. And soap star Susan Lucci's foot injury, suffered two weeks ago, turned out to be much more serious than Brooke's.
After feeling discomfort, Susan went to Cedars-Sinai Medical Center where a doctor diagnosed her with a fractured left foot. When the doctor gave her the go-ahead to dance, however, the actress bravely performed the hustle with pro Tony Dovolani, for which she got a score of 22.
"My foot feels fine. No pain right now," reveals the All My Children star. "I'm taking it a week at a time and I'm hoping me and Tony's fans will continue to vote for us."
Said Tony, "It just goes to show you that this is a sport and a lot more people are being injured this season because it's a little bit more grueling schedule. Everybody's really pushing themselves to the limit."
Joining the other walking wounded was Lance Bass, who slipped and fell during his West Coast Swing routine with partner Lacey Schwimmer.
Article continues below advertisement
"He injured his toe!" Lacey told OK! after the show. Lance explained the floor is "really sticky, because most of the dancers use castor oil on their shoe bottoms, so I had to overcompensate. I bit the dust!"
But his injury was minor and Lance insisted they were happy with their performance, tying with Cloris Leachman and Corky Ballas' salsa for the night's lowest score, a 21.
"It wasn't a downer for us. I'm very proud of what we did. It sucks the judges didn't see what we saw," Lance said.
Meanwhile, Warren Sapp and Kym Johnson got the most enthusiastic audience reaction for their energetic hustle, which got a 25. Retired football legend Warren, who weighs 300 pounds, said lifting Kym was no sweat. "She don't weigh nothing," the big fella told OK! "She's a hundred pounds!"
Warren said the hard part is that he gets dizzy. "I had to work up to that speed. I don't like spinning."
Maurice Greene and partner Cheryl Burke earned their highest score of the season, a 27, for their salsa. Cheryl was seen calling Maurice "lazy" during their televised rehearsal clips.
Article continues below advertisement
"I was frustrated, not so much in him, but in myself because I didn't know what to do. Salsa is not my specialty," Cheryl explained to OK! backstage. "We spent ten hours rehearsing one night. I could have handled myself better."
Maurice laughed it off: "I understood how frustrated she was. She was trying to get something out of me but I wasn't comfortable in putting that effort out there because I didn't know what I was doing."
But once they hit the dance floor, it was a different story, and Maurice even got a kiss and hug afterwards from judge Carrie Ann Inaba. "I really felt good about this dance. Carrie Ann couldn't resist me!"
Hannah Montana star Cody Linley and Julianne Hough were thrilled with their jitterbug, which earned the night's second highest score, a 28. "I think Julianne did an amazing job coming up with the theme so it fit me and I felt confident," he said. And look out, Miley Cyrus! Cody said he'd love to have Julianne, who played Lucille Ball during their dance, appear on Hannah Montana. "I'd love to do a sitcom!" Julianne said.