NEWS
Brooke Burke Picks 'DWTS' Favorites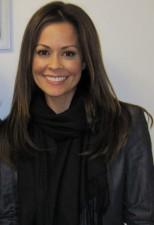 Now that Dancing With The Stars is in full swing, co-host and season seven champion Brooke Burke reveals behind-the-scenes scoop including Pamela Anderson's beauty regimen, her pick to win and her approach to sweeping the show.
While the Baywatch babe is heating up the dancefloor with her routines, Brooke can't take her eyes off her nails.
"Pamela had fabulous metallic silver fingernails and toes, and it was a sticker," Brooke, 38, tells me during a Febreze No Spill Wood Diffuser event. "It's so cool, and I can't wait to try it. They're actual appliqués. It looks like chrome, and it's fantastic. It's fashion silver and looks hot and super fun. It was gorgeous. A little out there, but cool."
Article continues below advertisement
Still, Pamela isn't necessarily going to go home champion despite her beauty blitz.
"I don't think anyone has an advantage at this point," she. "If Buzz Aldrin gets any points for being adorable and cute, I hope that he sticks around. At 80 years old, you have to give him credit. Nicole Scherzinger is probably a favorite, but it's absolutely too soon to tell."
For Brooke, being crowned champion during season seven was an evolving strategy.
"I visualized a lot," she says. "I always tried to take five minutes and get everyone out of my dressing room, and run the routine in my mind. I watched a lot of pro videos on YouTube, which really helped. It wasn't advised – it wasn't discouraged – but because we can't relate to the moves in our mind, it helps to have that visual. I went on YouTube and watched pro dances, and then I ran the routine in my head before I would go out there on the dancefloor."
Article continues below advertisement
She adds, "Then I had faith in my body, and at that point, you've rehearsed as much as you can. It took me six weeks to get to this sane place. For the first six weeks, it was a whim and a prayer. I think that's why the athletes do so well – because they're trained to think like an athlete, and they know how to perform under pressure. It was the hardest thing I've ever done – performing on the show – for sure."
Even though it's only natural for the cast to be whittled down to one winning pair, Brooke was saddened when Shannen Doherty was ousted last week.
"Shannen's waltz was the most touching moment because everybody expected her to be bad girl of Beverly Hills," she says. "Everybody thinks they know her. They thought she would come out there and be dark and be bad, and she came out and danced for her father, who was sitting in the audience, who was emotional and in tears. She was so open and so vulnerable. It was a beautiful moment – it was very real and uncensored."
She continues, "People are raw on this show – completely naked. You can't hide behind anything on this show. I commend her because she really wore her heart on her sleeve."
Here's my pic with Brooke:
Pick up the OK! on newsstands now for Brooke's What I Ate Today feature. The cover line is Kendra & Kourtney/"New Moms Fight Back."