NEWS
Brooke Burke's Last Word Outtakes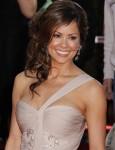 Dancing With the Stars host Brooke Burke takes OK!'s Last Word interview in the issue on newsstands now. The 38-year-old mother of four, who is engaged to David Charvet, revealed how everything she loses comes back to her when she visited the office on behalf of Febreze's No Spill Wood Diffuser. (And, she came bearing gifts.)
This is what you won't find in the magazine.
Last thing you ate?
I'm laughing because we were really on a mission to get a great New York bagel this morning because I love to come to New York and get a great cup of coffee and a bagel. But I only eat whole wheat bagels. I hit three restaurants until we finally found a toasted whole wheat bagel with butter and tomatoes, salt, and a hot cup of coffee. It was really good.
Article continues below advertisement
Last thing you lost?
Somehow, honest to God, everything I lose gets returned to me. I have this thing — whether it's a bag, a wallet, jewelry — it's karma, I like to think it's karma. But the last thing I lost … I have this thing where I hide stuff at home. I hide things in really good places — so good that sometimes I can't find them. And I have two amazing bracelets that David gave me. They're actually my push gifts for baby Shaya. He doesn't know that they're actually missing ... but they're not really missing. I haven't lost them, but I hid them one day when I didn't have time to put them back in the safe. So they're hiding somewhere in my house, and everything I misplace or lose, I find, but this must be in a really good spot because I can't find them. Technically, I'm not willing to say they're lost, but they're missing in my house.
Last time you went home to Connecticut?
I always try to extend my New York trips, get a car and drive over to Connecticut to visit my cousins and family. The last time I did that was after I won Dancing With the Stars. It was Thanksgiving. I was in New York, I was doing a bunch of press, and then I went over to spend the holidays with the family. So it was Thanksgiving last year.
It's always amazing to go back. It's home for me. I love being with my family, and a lot of them are in Connecticut. It's not often enough, but it always feels like no time has passed, and the Burkes are really warm and really fun and really festive — especially around the holidays.
Article continues below advertisement
Last chore or errand you did?
I do errands all day long. The last chore was probably rinsing sippy cups, because I do that a million times a day laughs. My kids drink hot chocolate in the morning in their sippy cups, they drink warm milk at night in their sippy cups, water during the day in their sippy cups. It's a spill-proof cup all day long. It's part of the mommy gig.
Last time you cried?
The last time I cried … do I really want to admit that? The last time I cried was probably last weekend, missing David. He's still in Africa. It was a good cry. He's been gone for a long time, so there are definitely emotional moments between us. But they're good tears.
Last meal you'd like to eat before you die?
Wow. That's a major question. One of my favorite meals is grilled fennel and ahi at Cipriani's in New York, which is where I'm headed when I leave here. I really look forward to that meal.
But one meal before I die? Probably spicy vegetable pasta in Paris at one of the most famous Italian restaurants there, and I'm forgetting the name of it, but it's a real yummy, special pasta in Paris. The best Italian restaurant in France, how about that?
Article continues below advertisement
Last time you felt starstruck?
Standing next to Buzz Aldrin on the premiere night of Dancing With the Stars. It was really an honor to be in the presence of somebody like him — not so much in a Hollywood way, but he's an American hero. It's a pretty amazing feeling.
Last time you were mistaken for another celebrity?
Not ever mistaken, but I get "You look just like Brooke Burke" a lot when people don't realize that it's me. I go, "Really? I hear that all the time." I usually don't fess up. I say, "Really? I get that a lot."
Last time you saw Kate Gosselin?
Monday night I was with her in our celeb aquarium, when she was getting ready to dance. I talked to her immediately after. I'm very proud of her, mother-to-mother. I think she's got that edge because you know she's a multitasker, and to accomplish what you need to on Dancing With the Stars, you need to be able to do a lot of things at the same time. I'm proud of her.
Article continues below advertisement
Last time you saw Pamela Anderson?
Monday night, too. Pamela danced last. I think she was relieved to finally get it over. I think she surprised a lot of people. I'm really happy she's doing season 10. She definitely has rhythm, so I think that no one can underestimate her. I think that Pam's going to surprise a lot of us.
Last time you felt guilty?
Last night, leaving to come to New York. I always travel with my children, but because this trip was in-and-out, I didn't want to pull them out of school, and they would've spent more time on the plane than with Mommy 'cause I'm working. They're getting a little bit older now, so I chose to do the trip on my own. So, confession, that's always hard. I never do it. I did feel guilty. It's probably harder on me than it is on them, though.
Last time you felt angry?
The last time I felt angry probably was with my kids — they have selective hearing and they don't always focus on what I'm saying. That's why the things I say go in one ear and out the other. Nothing new, and that's understandable, but I'd be inhuman if I said it doesn't make me angry. laughs
Last time you felt envious?
Walking Fifth Avenue in New York City. If money were no object, I could shop Fifth Avenue all day long, but the sensible side to me doesn't allow it. Bag and shoe envy on Fifth Avenue? Yeah. For sure. Although I did make one purchase this morning – python platforms from Gucci. They're amazing.
Article continues below advertisement
Last thing you bought?
I also bought some black patent leather open-toed Guccis laughs. I bought two pairs in there. I have a tradition, whenever I come to New York, even though I can get the same shoes a home, it's a different experience going in to Gucci in New York, so I always buy a pair of shoes when I'm in New York City — no matter what I'm here for. Or two.
Every brand-new pair of shoes makes a woman feel good, but Guccis fit my feet really well, and I love them. I don't work for them, I truly love it. I wouldn't get mad, though, if they asked me to do a campaign. Just kidding. I love Gucci.
Last risk you took?
I like to think I take a risk every day, but I flew 36 hours to Africa with two babies to go see David, and everybody thought I was absolutely nuts. I really tried to change my point of view, and look at it as an adventure, and it was a really important trip for our family. It was a risk, to say the least. I think tackling that travel with two babies, ages 2 and 3, was pretty ambitious. I went into it with the right mindset, and they did amazingly. I'm so glad I went. I would've gone farther because it was an amazing trip.
Article continues below advertisement
Last time you witnessed a squabble?
That would be daily at home with my 8-year-old and 10-year-old. Or my 3-year-old and 10-year-old. Or my 2-year-old and 3-year-old laughs. There are a lot of different disciplinary tactics that I enforce in my house, but I keep reminding my kids that our home is a place for love and not for fighting. It's normal, but rather than fighting to stop the fighting, I keep reminding them about respect in the family and love at home, and I hope that it sticks eventually, but girls will be girls. Three girls. That's a lot of estrogen in the house.
Last time you worked out?
I worked out Sunday before our script meetings, missed Monday, and I'll go for a walk in Central Park today. I'll do a power walk.
Last dream or nightmare?
I haven't had a nightmare, knock on wood, for a while, and my last … I did have a dream the other night, what in the world was it? I don't remember. I feel like I'm living a dream now, though. This week and this month have been really surreal with everything that's going on. I rarely remember my dreams.
Here's my pic with Brooke:
Brooke Burke's Last Word interview appears in the OK! on newsstands now. The cover line is Katie Holmes/"At Last! Baby Brother For Suri!"