NEWS
Brooke Hogan: I Love My Body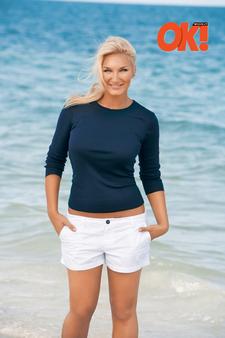 Four years ago, when Brooke Hogan, then 17, went on TV with her family in Hogan Knows Best, nobody could have predicted the turmoil that would engulf her life.
It has been a difficult period for the Hogans, with Nick's car crash in August 2007 followed by Hulk and Linda's separation a few months later. OK! met up with Brooke, whose next album is due out in July, at the Ritz-Carlton in Key Biscayne, Fla., to talk about how she's coped and to discuss her show, Brooke Knows Best, which returns to VH-1 on June 7.
Article continues below advertisement
For the first time, the 5-foot-11 bombshell sets the record straight about all the family drama and her revamped, stunningly fit physique.
CLICK HERE for OK!'s photo shoot with Brooke!
OK!: Have you always wanted to be a singer?
I've always been really passionate about music. My dad was, too, before he became a wrestler. I couldn't see myself doing anything else.
OK!: There was some tension between you and your mom for a while. Is everything resolved now?
I had a talk with her and I said, "I think everyone in America knows why I won't accept Charlie." But what people don't know is that he's a bad influence on her. She's not staying as healthy as she should be. He's 19, he can party his ass off. She's 48. I said, "Mom, if you want to have a relationship with me you have to dump Charlie." It's not because of his age. If he were 5 years old and a good influence on her then that would better. But I'm just not happy with the situation because of their poor judgment — with what they do.
Article continues below advertisement
OK!: What kinds of things do they do?
I know there are things that could damage her health and make her get old really quick. I don't want to see that happen. I'm trying to stick to the tough love thing. I'm just staying away until she wakes up. In order for me to keep my sanity, I have to love her from afar. We are totally different women. I'm straightlaced, don't do drugs, stick to my regimen. It's different there.
OK!: What can we expect this season on Brooke Knows Best?
It's crazier. I went on a date with a girl. The girl was really awesome and we had a blast. Then it got to the point where she was wanting to kiss me. Everyone knows I do not go there.
OK!: Can you see how someone like Lindsay Lohan was straight and then switched?
Oh, totally. You can fall in love with anyone. I naturally migrate toward
men first; some people may be more open about it. Personally, it's not me.
Article continues below advertisement
OK!: What are some of the best lessons you've learned from your dad?
The best advice he ever gave me is that you're the only person in charge of your happiness. You can't depend on other people to make you happy.
OK!: How do you feel about your current weight?
I feel great at this weight, but I've started sticking to a diet again. I'm trying hard to get down even more. You need to keep to the old-school bodybuilder diet of eggs, fish, chicken, meat and broccoli. I want to always look healthy, not anorexic.
OK!: Do you feel comfortable in a bikini?
I do. I love my body. Thick or not, I'm firm. I don't have cellulite. I'm happy with how I am. People should know, I'm only doing the diet for the entertainment business. It's not really what you're supposed to look like in real life.
For more of OK!'s exclusive interview with Brooke, pick up the new issue of OK!, on sale everywhere Thursday!
BROOKE'S PHOTO SHOOT WITH OK!: