NEWS
Brooke Mueller Checks Into a Sober Living Facility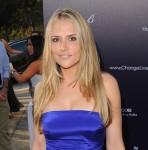 According to TMZ sources, Brooke Mueller has once again checked into a sober living facility yesterday.
OK! GALLERY: BROOKE MUELLER & KATHY HILTON MAKE AN UNLIKELY DUO
Brooke was reportedly taken to the sober living house yesterday in L.A. by Kathy Hilton, Paris Hilton's mom, TMZ reports.
According to sources, Brooke decided to re-enter rehab herself and said she "felt weal" and wanted professional counseling.
Article continues below advertisement
OK! GALLERY: CHARLIE SHEEN GRINS LIKE IT AIN'T NO THING
Brooke's lawyer, Yale Galanter, told TMZ that Brooke has checked into the sober living house, but she did not have a relapse and can come and go as she wishes.
According to Galanter, Brooke checked herself in to "maintain her health."
Brooke also reportedly spent Thanksgiving in a sober living facility. According to TMZ sources, her two children with actor Charlie Sheen are staying with her parents.