NEWS
Brooklyn Decker Joins Jen & Nicole on 'Just Go With It' Set!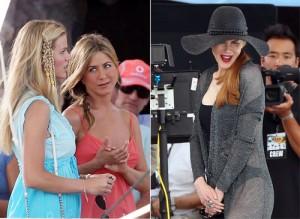 Jen Aniston, Nicole Kidman and newcomer to the Just Go With It set, model Brooklyn Decker, filmed scenes poolside for their new rom-com yesterday in Maui, Hawaii. Nicole donned a black bikini, sparkly kaftan and floppy sun hat to film her poolside scenes, while Jen dressed in a coral pink sun dress joined Brooklyn on a boat to shoot their humorous scenes!Jen and Brooklyn looked to be very entertained by their co-star Nick Swardson.
Article continues below advertisement
The goggle- and armband-clad Nick kept Jennifer and Brooklyn laughing while they filmed their scenes.
It looked like the Sports Illustrated swimsuit model got thrown overboard during filming, leaving her soaking wet in her blue sundress!