NEWS
Brooklyn Decker Tells OK!: Andy Roddick Is a Good Mentor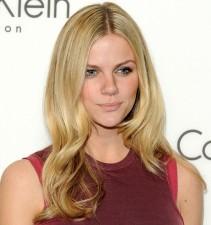 Brooklyn Decker is a confident swimsuit model, just nabbing one of the biggest titles of her young, bright career — Sports Illustrated cover model! Her confidence stems from a strong support system at home from hubby Andy Roddick. "He's really good at giving advice because he's been there and done that, so it's nice to have his tips," Brooklyn recently told OK!
"It's nice because you kind of get to grow together," she continued.
Article continues below advertisement
The blond bombshell, 22, and tennis superstar, 27, married last April in a candlelit ceremony before an intimate group of family and friends at Andy's Austin, Texas, home.
OK! NEWS: BROOKLYN DECKER: THE NEXT SPORTS ILLUSTRATED SWIMSUIT COVER MODEL
Brooklyn says Andy's background with entertainment and handling press has provided guidance for her own career.
"He's done the entertainment side of things, so he definitely gets it. He's a really good mentor when it comes to all of that," Brooklyn told OK!.
Andy turned to his Twitter after news of Brooklyn's cover spot was announced, bursting at the seams with pride and excitement for his wife.
"so happy/proud of my wife... the new cover for sports illustrated swimsuit issue!!!! unreal... so excited!!!!!!!!!!," he Tweeted.
He loves Brooklyn so much that he Googles her!
"getting ready for 1st round tip off at SAP open here in san jose and googling stories and tv clips of @brooklynddecker ha ha...," Andy Tweeted.
What's the best advice Andy's passed on to his gorgeous wife?
"Enjoy it and don't let it fly by," she said.
Reporting By Oliver Coleman