NEWS
Bruce on Brody's "Avril" Tattoo: "I Guess That's What These Kids Do"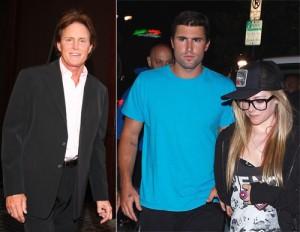 Bruce Jenner doesn't always understand why his family members make the decisions they do, but no matter what, he tries to support them! So when his son Brody Jenner decided to get his girlfriend Avril Lavigne's named tattooed on him, Bruce tells OK!, "I'm going okay, whatever."
OK! GALLERY: BRODY & AVRIL'S RELATIONSHIP CONTINUES TO CONFUSE
Now that Brody is done with The Hills, Bruce has been able to spend more time with him and his new girl, Avril.
Article continues below advertisement
"Yes, I have gotten to meet her. Brody seems to be very happy," he tells OK!. "Brody, actually, interestingly enough, over the last month I've seen him more than I have over the last year because he got into golf. Yes! I took him out about a month ago. I said, 'Come on Brody you've got to play golf.'"
"And now he's got a little more time now that The Hills is over and he's looking for other things to do," Bruce explains to OK!. "He got out there that day and he absolutely stunk. His brother Brandon beat him badly. He was just struggling with it. And he said, 'I've got to learn this game.' So he went out and bought himself a set of clubs and we played again three weeks later and he was a hundred times better."
OK! NEWS: BRODY & AVRIL TWEET KISSES TO ONE ANOTHER
And while the boys are bonding over golf, Bruce still has a hard time understanding why his family members keep tattooing their girlfriend's names on them.
"He does have an Avril tattoo," Bruce confirmed to OK!. "Yeah, like Robert Kardashian had a, what's her name? Adrienne Bailon."
"'Robert, what are you doing?'" Bruce says he asked Rob with his response being, "She got one, too!"
OK! GALLERY: BRODY JENNER SURFS AROUND FOR A NEW BOARD
"I guess that's what these kids do. I'm going, okay, whatever. It's very thin," he laughed. "He seems to be very happy. She seems to be a very nice girl. They seem to be very happy together.
"Where it goes?" Bruce added. "I don't know, but they seem happy."
Reporting By Laura Lane