NEWS
Bruce Jenner Learned of Kim Kardashian's Divorce From the News!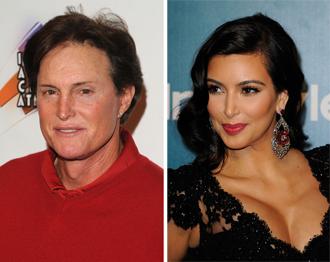 The unraveling of Kim Kardashian's marriage to Kris Humphries is fresh on everyone's mind this week as it's only just happening in TV time on Kourtney and Kim Take New York. On Monday, OK! chatted with Bruce Jenner at the Live Demonstration of Performance 3D in NYC and learned he found out about his stepdaughter's divorce the way everyone else did — in the news!
OK! GALLERY: KIM KARDASHIAN SIZZLES IN RED TO CO-HOST LIVE WITH KELLY!
Article continues below advertisement
Kim went to her mother Kris Jenner for advice when it came to her marriage to Kris, which ultimately ended after just 72 days. But did she go to Bruce for advice as well?
"I'm smart enough to stay out of all those things," Bruce explained exclusively to OK!. "I have given them advice through out the years, but in this particular case I kept my mouth shut. I didn't want to... you don't get involved in love. Just hope for the best."
Not only did Kim not go to Bruce for advice on her marriage, she didn't even tell him her decision!
"Actually, I found out she was getting divorced by hearing about it on the news and stuff," he revealed. "I was like, the last to know. But I could hear telephone conversations in other rooms happening and I knew something was up but I didn't know it was that bad until after. My only advice to her is... Kim, she's really such a great, great kid. She's always been that way. Smart, intelligent, extraordinarily hardworking and I hope nothing but the best for her and so I just said, 'Just continue. You're going to take a lot of heat for this. Just continue to be the same good person you've always been.' And I think she has and I said, that's about all you can do right now."
Article continues below advertisement
OK! NEWS: KIM KARDASHIAN TALKS KRIS HUMPHRIES DIVORCE BACKLASH ON LIVE WITH KELLY
As for Bruce's other stepdaughter, Khloe Kardashian, he admits he is sad her husband Lamar Odom was traded to Dallas. But he also realizes it could be worse!
"I'd love to still have him at the Lakers but that's not the case," Bruce told reporters. "It's a business and that's his business and he had a great game last night. Dallas is a great place to be. You know he was almost leaving to go to Turkey with the lockout and so I thought — Istanbul or Dallas… Dallas is looking pretty good."
Reporting by Kaitlyn Monteiro