NEWS
Bruce Springsteen & the E Street Band Celebrate SiriusXM's 10th Anniversary at the Apollo Theater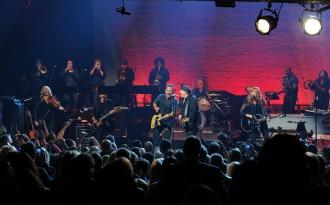 Bruce Springsteen and his newly expanded E Street Band rocked Harlem's iconic Apollo Theater last night to celebrate SiriusXM Radio's 10th anniversary with a concert commemorating the release of his new album, Wrecking Ball. And OK! was there to check out the out-of-this-world performance!
Backed by five horns and three vocalists, as well as Steve Van Zandt, Patti Scialfa, Garry Tallent and other noted members of the band, Bruce performed hits off Wrecking Ball, as well as some favorites including "Tenth Avenue Freeze Out," "Thunder Road" and "The E Street Shuffle." He also sang a romantic duet with his wife Patti, which he sealed with a kiss, and rocked out on songs like "The Rising" and "We Are Alive."
Article continues below advertisement
OK! NEWS: BRUCE SPRINGSTEEN & THE E STREET BAND'S NEW SAXOPHONIST: CLARENCE CLEMONS' NEPHEW!
But one of the most touching moments came when Bruce referenced the loss of his dear friend and bandmate, Clarence Clemons, who died suddenly after suffering a stroke last June. While performing "My City of Ruins," The Boss cried out, "Are we missing anybody? Are we missing anybody?" before telling the crowd over and over, "If you're here, and we're here, then they're here."
Clarence's nephew Jake Clemons was also on-hand to pay tribute to his uncle as the new saxophonist of the group. During "Tenth Avenue Freeze-Out," he killed the sax solo while Bruce, once again, referenced Clarence when the line "The Big Man joining the band" came up. The crowd and the band went silent and then burst out into cheers and applause for the cherished saxophonist. There's no doubt in our minds, or the fans' minds, that Jake made his uncle proud last night.
Article continues below advertisement
Bruce also paid tribute to the Apollo Theater, referencing the greats who have performed there and even opening with a spin-off of Jackson Browne's historical introduction in 1962, announcing himself as "the hardest working white man in show business."
OK! NEWS: BRUCE SPRINGSTEEN'S NEW ALBUM WRECKING BALL RELEASED ON MARCH 6
Later in the evening, Bruce noted the greats like Aretha Franklin, Solomon-Burke and "poet" Smokey Robinson, before he and the band broke out in song to "The Way You Do The Things You Do," which led into a rendition of "634-5789." During this, Bruce decided to make his way up to the second level of the theater and give the crowd up there a closer look. It was incredible!
The Boss wrapped up the memorable night, which will most likely go down in history, with soul classic "Hold On, I'm Comin'," referencing to the fact that the band's making their way around the U.S. starting next month. "We're coming...New Jersey. We're coming...Washington. We're coming New York City!"
What a night!