NEWS
Bruce Springsteen: I'm Not a Cheat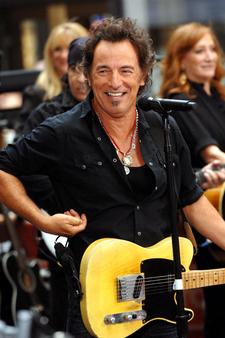 After reports surfaced indicating Bruce Springsteen as the other man in a divorce between a New Jersey couple, the rock legend says he's still faithful to his wife, Patti Scialfa.
According to The New Jersey Star-Ledger, his rep says he stands by a statement posted to his site, brucespringsteen.net in August of 2006, at which time he was reportedly named in a different affair.
At the time, he wrote: "I hesitate to use this website for anything personal believing it should remain a place where fans of my music can come free of the distractions that occasionally arise with the rest of my job. However, due to the unfounded and ugly rumors that have appeared in the papers over the last few days, I felt they shouldn't pass without comment. Patti and I have been together for 18 years – the best 18 years of my life. We have built a beautiful family we love and want to protect and our commitment to one another remains as strong as the day we were married."
Article continues below advertisement
In this new case, divorce papers filed by Arthur Kelly accuse his wife of 17 years, Ann C. Kelly, of being involved with Bruce, saying she "has committed adultery with one Bruce Springsteen, who resides in Rumson, N.J., and Colts Neck, N.J., at various times and places too numerous to mention."