NEWS
Bruce Springsteen Starts a Fire: The Boss Endorses N.J. Charity Move For Hunger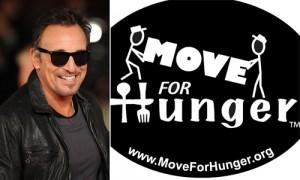 Bruce Springsteen is stretching his philanthropic arm once again and this time it's in his own backyard. The Boss has endorsed New Jersey-based charity Move for Hunger, an organization dedicated to picking up unwanted, non-perishable food items from those who are moving and delivering it to local food banks.
Bruce took to his website and Facebook page to promote the charity and urge his fans to vote for MFH in Chase Bank's Community Giving competition.
Article continues below advertisement
MFH is the only hunger-relief organization in the running for one-million dollar grant through Chase Community Giving!
Starting with one family moving company, MFH has grown to work with over 160 movers in 37 states. To date, the organization has collected over 340,000 lbs. of food for those in need.
"A million dollars would be a game-changer for Move For Hunger," Adam Lowy, Founder & Executive Director of MFH, tells OK!. "We've been working with bare bones for the past two years and have been able to collect over 340,000 lbs. of food for food banks across the country. With this win, we hope to have moving companies in all 50 states fighting hunger in their communities, while expanding our programs to mobilize young people to join our hunger fight."
And how about getting support from Bruce — yes, Adam is a huge fan!
"When Bruce gave us his support, we were blown away! When I first started Move For Hunger, I never could have dreamed of having someone as amazing as him become involved with our organization," he shares. "He and his wife have always championed feeding the hungry. He mentions it at his concerts and has truly been a great advocate for the cause. As someone who was born and raised in New Jersey, it is unbelievable to have the boss on our side!"