NEWS
Bruce Springsteen's Sax Man & Best Pal Clarence Clemons Making "Miraculous" Recovery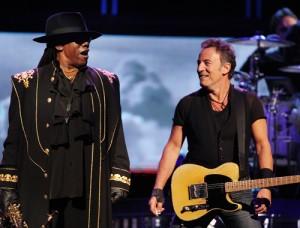 It looks like Clarence Clemons is on the road to recovery after suffering a massive stroke over the weekend. Bruce Springsteen's mainstay saxophonist is reportedly responsive, and "miracles are happening" for the beloved member of the legendary E Street Band.
A close friend told Backstreets.com — a dedicated fan site to the Bruce and the E Street Band — that Clarence's condition has improved.
Article continues below advertisement
"Yesterday, it did not look good at all. Today... miracles are happening. His vital signs are improving. He's responsive. His eyes are welling up when we're talking to him. He was paralyzed on his left side, but now he's squeezing with his left hand," the friend shared. "This is the best news we've heard since the stroke happened — it's nothing short of miraculous. The next five days will still be critical. But he's a fighter."
The 69-year-old saxophonist of the E Street Band had fallen "seriously ill" after a massive stroke at his home in Florida.
Members of the E Street Band were "advised to get down to Florida as soon as possible," according to a report form Showbiz411.com.
It's great to hear his condition is improving.
Most recently, Clarence collaborated with Lady Gaga on her hot new track "Edge of Glory," off the album Born This Way. He performed with her last month on the American Idol finale.