NEWS
Bruce Willis Could Have More Kids — Or Not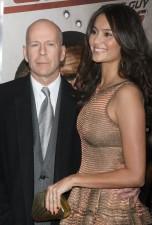 Bruce Willis separates business from pleasure during his Cop Out premiere held Monday at NYC's AMC Loews Lincoln Square 13.
While the 54-year-old actor makes the rounds doing interviews, model wife Emma Heming is seated comfortably inside the theater.
The brunette bombshell, 32, is the first to arrive, wearing a dress that barely covers her behind.
"It makes me feel great," he says of her presence.
The couple will celebrate their first anniversary in March, but more kids may -- or may not -- happen.
Article continues below advertisement
"I'd like to have a thousand more children, or zero more children," he tells me. "It doesn't matter. Why? Do you want to have some children with someone? Do you have kids?"
But he's such a great dad to his girls Rumer, Scout and Tallulah, whose mom is ex-wife Demi Moore.
He agrees. "I am a great dad."
What's the best thing about his extended family, which includes Demi's hubby Ashton Kutcher?
"Laughter," he says. "Lots of laughter."
He doesn't go there when asked twice about how he feels about his daughters getting married.
"Thank you," he says.
Co-star Tracy Morgan offers high praise for the Die Hard actor.
"He's the bomb," Tracy says. "He's funny when he needs to be funny. He's Bruce Willis – he's one of the five greatest actors of all time, so he can be funny, sad, all of that. I'm learning all these techniques from him."
Co-star Adam Brody enjoyed riffing with Bruce and Tracy.
"It was fun," he says. "It wasn't intimidating."
Cop Out is in theaters Friday.