NEWS
Bruce Willis Will Star in 'Die Hard 5'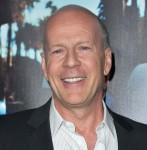 It's hard to believe but in 1988 the very first Die Hard movie premiered when Bruce Willis was a budding star and shared the small screen with Cybill Shepherd on the hit show, Moonlighting. Well, fast forward to 2011...the 56 year-old actor will reprise his role as John McClane in Die Hard 5.
The next installment in the series, "A Good Day to Die Hard" will focus on his character and his son as they get involved in a prison escape in Russia, as reported by RadarOnline. Ever since the first Die Hard movie, Bruce's character has been at the wrong place at the wrong time.
Article continues below advertisement
OK! NEWS: BRUCE WILLIS IN TALKS TO STAR IN G.I. JOE 2 — RETALIATION
In a statement 20th Century Fox indicated, "Now, McClane faces his greatest challenge ever, this time on an international stage, when his estranged son Jack is caught up in the daring prison escape of a rogue Russian leader, and father and son McClane must work together to keep each other alive and keep the world safe for democracy."
The movie will start to begin filming in Russia this January and will open in theaters in 2013.