NEWS
Bryce Dallas Howard on Directing While Pregnant: "I Would Run to the Bathroom"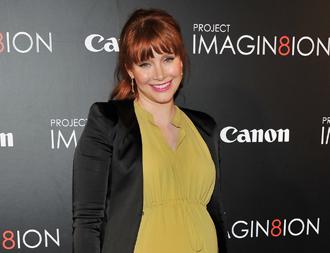 Bryce Dallas Howard and her father, Ron Howard, teamed up to direct and produce the new short film, When You Find Me, which was inspired by Canon's "Project Imagin8ion" contest. For Bryce, the experience was both a joy and a bit of a struggle — because she was six months pregnant!
"It was wonderful," Bryce told reporters at the premiere of her film in NYC. "I was six months pregnant when I directed it, and people certainly got a little bit worried sometimes because I'm like, 'Hold the roll! Hold the roll!' I would run to the bathroom, and they were like, 'The pregnant lady's running!' "
Article continues below advertisement
"But I was in my second trimester," she explained. "I had a good amount of energy, and I just felt very excited to be able to be working in that capacity. It's good. I'm glad we're here. I had to get a permission slip from my doctor saying that I could get on a plane. But everything's going very well."
And Bryce really loved having the rare opportunity to work with her dad.
"I'm one of four kids, so any chance where I can get him one on one is great because being one of four kids, you're kind of used to sharing a lot, and he's just so gifted and brilliant and such a wonderful artist," Bryce shared to OK!. "For me, it was wonderful to get to have a chance to really kind of drill him on all of the things that he knows but hasn't really shared with me because he's a really humble person."
MORE ON:
bryce dallas howard