NEWS
Bullock 'Devastated' by Jesse James' Infidelity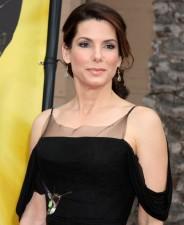 After keeping her head high when news broke of her husband Jesse James' infidelity, sources reveal that Oscar winning actress Sandra Bullock is truly devastated.
"She's devastated. She's beyond upset. And she has every right to be. She was on top of the world with her Oscar victory and now this. It's such a difficult thing to deal with," a source told Radar Online of Sandra's reaction.
And even though Sandra has gracefully bowed out of a few public appearances such as a movie premiere and the Kid's Choice Awards this afternoon, she still feels protected by her friends.
Article continues below advertisement
"She has a tight circle of friends. They won't say much about her. They want to protect her. And that's because she's been nice to everyone along the way.
Lucky for the 45-year-old, who hasn't been back to the home she shared with Jesse since four mistresses have come forward claiming infidelity, her modest and down-to-earth persona keep her support system intact.
"She's not stuck up. She doesn't act like a star. She acts like a normal, sweet person, which is exactly what she is. And that's why everyone is so loyal to her," sources tell Radar Online.
After winning an Oscar for her role in the Blind Side this year, Jesse was caught cheating with up to four women, including Michelle McGee and Brigitte Daguerre.