NEWS
Burglar Bunch's Alexis Neiers Put Behind Bars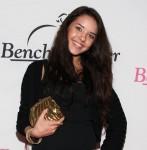 Burglar Bunch member Alexis Neiers pleaded no contest in burglarizing Orlando Bloom's home and is facing 180 days behind bars.
OK! GALLERY: ORLANDO & MIRANDO TAKE THEIR DATE ON THE GO
The Pretty Wild star received 180 days in jail, three years felony probation and two-year suspended prison sentence, E! News reports.
Alxis also must stay away from Orlando's home and pay restitution that prosecutors estimate could be as high as $600,000.
Article continues below advertisement
OK! NEWS: ACCUSED LOHAN/AUDRINA BURGLARS PLEAD NOT GUILTY
By pleading no contest, the 18-year-old avoided a possible six year sentence.
"I think the fact that Orlando Bloom would testify, and the weight of a celeb testifying against Alexis, made us realize the odds were stacked against us," her attorney, Jeffery Rubenstein, said. "This was a last-minute decision. We were ready for trial today."
"Ms. Neiers feels it's in the best interest to take the people's offer because of the amount of jail time that could possibly occur... and she wants to move on with her life," Rubenstein told Los Angeles Superior Court Judge Peter Espinoza.
Alexis was accompanied by her mother Andrea Arlington and sister Gabby Neiers. As Alexis read the terms of her plea deal her mother was heard saying, "and so it is."
Article continues below advertisement
"It's been a long road and Alexis is looking forward to moving on with her life," Rubenstein said after the hearing. "After lengthy consideration and fighting the best pretrial fight we could, we decided it was in Alexis' best interest to take responsibility for her small part in this incident and do a little bit of county jail time instead of a lengthy state prison sentence if convicted."
"We thought this was a just result," Prosecutor Sarika Kapoor said. "She was part of the group, she admitted her guilt today."
Alexis is to begin her sentence June 24.