NEWS
Busta Rhymes Shuns Reality, Worst Job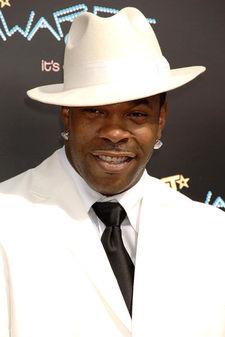 Reality shows like Dancing With The Stars or Celebrity Apprentice aren't in the cards for Busta Rhymes.
"I've got my little one-two James Brown step, but I definitely don't think I want to display it for anybody to be trying to copycat what I do on Dancing With The Stars," he tells me backstage during Vibe's V Sessions Live launch held at Joe's Pub in NYC as he puffs on a cigarette. "No, they've gotta pay me to watch that type of performance."
Article continues below advertisement
Busta, 36, wasn't born with a silver spoon in his mouth, though.
The man who was born Trevor Smith worked hard to get to the top of his game – including scoring a place in the Guinness Book of World Records in 2000 for most syllables in one second during a freestyle rap.
What was his worst job?
"I used to work as a stock boy at a department store called Cheap John's," he says. "I knew that I couldn't really wrap my head around doing that kind of work. Even if your heart is not in something, your mind has to at least be able to be willing to do it. So, I took the job and I worked for about two weeks, and then I quit."
Why?
"They just had me doing too much. I had to line up the roach sprays on the shelves and make sure they were all in order, facing the same way, with the logos facing the front. The dishwashing liquids, the detergents, the boxes that they came in when they came from the actual shipping companies that they were manufactured at. After I lined them up on the shelves, I had to cut up the cardboard boxes, fold them up neatly and tie them up so that they could do the recycling thing with them. After a couple paper cuts too many, and hands that were calloused and ashy and bruised, I said 'this is definitely not the thing for me to continue to be doing.'"
MORE ON:
Red Carpet Confidential
Article continues below advertisement
Busta adds, "I used that as inspiration to go into the studio all the time when I had a free moment. After work, during my lunch break, traveling back and forth to work … to just apply myself creatively, and the opportunity finally came one day when I was downtown."
As for that Guinness Book of World Records achievement he scored nine years ago?
"I don't remember if somebody has broken the record, but it's a great honor to know that I even had it. And if somebody did break it, I tip my hat to them because I definitely was doing something that was defying the laws of physics with my mouthpiece."
Busta is very cool. Just before our chat, he downs a shot with a pal. He's a wild man, and so fun to be around.
Busta's new album, Back On My B.S., is out March 24.