NEWS
Cali Swag District Member, M-Bone, Killed in Drive-by Shooting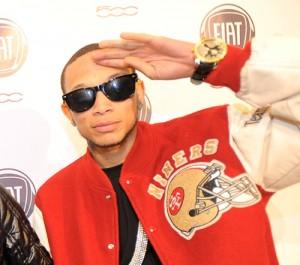 M-Bone, aka Montae Talbert, from the rap group Cali Swag District, was killed in a random drive-by shooting last night in Inglewood, Calif. He was only 22.
TMZ reports M-Bone was "next to his car in front of an Inglewood, Calif., liquor store at 11:32 p.m. PT Sunday when shots rang out" and "the shooter was driving down La Brea Avenue alone in his car when he fired."
Article continues below advertisement
M-Bone was pronounced dead at the hospital from injuries he sustained from the shooting.
Smoove, the lead singer of the rap group Cali Swag District known best for their smash hit "Teach Me How to Dougie," Tweeted, "Ma life changed drastically in the. Blink of an eye rip mbone."
Remember M-Bone in the clip below.