NEWS
Calling All Future Child Stars — Win $100K!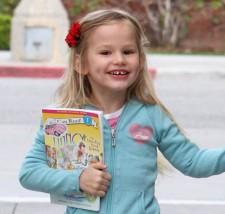 Does your child's potential stardom shine as bright as little Violet Affleck? The apple of your eye doesn't have to have Jennifer Garner and Ben Affleck as parents to get into the modeling business! Next Direct Children's Model Competition 2010 is looking for new talent now!
Next Direct, the most loved children's clothing brand in Britain, is now launching in the U.S. and looking for new modeling talent.
Article continues below advertisement
Your child could be the U.S. face of the brand, win a $100,000 scholarship and win a year's modeling contract with Wilhelmina Models!
The competition is open to all U.S. resident children aged 4 to 7 years old.
All you have to do is upload your child's photo to Next Direct's Facebook page at www.facebook.com/nextdirect before 7 a.m. EST on March 15, 2010.
For the complete rules visit www.facebook.com/nextdirect!