NEWS
Cameron Diaz 'Lucky' For Hot Bod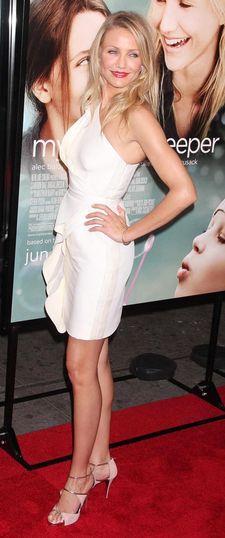 There's something about Cameron Diaz during the My Sister's Keeper premiere held Wednesday at NYC's AMC Loews Lincoln Square.
Clad in a white J. Mendel frock, the buoyant bombshell radiates joy in every way from her wide smile to her easy laugh to her sparkling blue eyes. She towers over everyone, and her deep tan and fire-engine red lipstick simply heighten the glamour.
How does the actress, 36, stay trim?
Article continues below advertisement
"I guess I'm just lucky," she laughs, attributing her bod to that old standby -- genetics.
In this medical drama opening Friday, Cameron plays mom to a daughter suffering from leukemia. To save her child, Cameron gives birth to another daughter, played by Abigail Breslin, who is forced to endure medical tests to save her sister until one day, Abigail's character says "no" and seeks medical emancipation.
"Mothers are goddesses," Cameron says. Her own family was on hand when she received her star on Hollywood's Walk of Fame this week. "Family's everything. They're the most important things to me, absolutely."
One thing Cameron likes to do for her family is cook, and co-star Heather Wahlquist admits she makes a mean guacamole. "She cooks very healthy, with a lot of garlic and olive oil," she tells me. "She gave me one good tip: if you get garlic on your fingers – it smells because you cook with garlic – then you can take stainless steel, and rub your fingers on it, and it goes away."
Article continues below advertisement
Cameron's co-stars can't stop gushing about her.
Thomas Dekker tells me, "She's like an old movie star. She has that bubbly, charismatic movie star presence, and then she can turn around and do something. It's surprising how good she is in this film. I think all the people who were like 'she's the wrong choice,' once they see it, they'll be amazed."
Director Nick Cassavetes, who also helmed The Notebook, was responsible for making sure Cameron didn't cry throughout the film, which was nearly impossible, the actress admits.
Nick tells me, "I was surprised by what a great woman she was. I didn't think she went that deep. It's not because she's Cameron Diaz, but when you know someone, you're like 'hey, how are you? What's going on? Ho-ho-ho, hee-hee-hee.' We really had to go there for this one, and I was surprised by how still her water was."
There's Abigail, 13, who is all gussied up in monster heels. A woman shrieks and gives her a hug. Her looks aren't the only way in which she's mature.
Article continues below advertisement
"She's so smart for her age, and she knows what she wants," costar Evan Ellingson tells me. "She uses big words. She's smarter than I am right now, and I'm 20 years old."
She also has a child's side.
Heather, who plays her aunt, says, "The funny thing about Abigail is when she's on set, she's a serious person who gets into her character and knows exactly what she's doing, but when it's over, she's a kid again. We put together this puzzle that we couldn't wait … they'd say 'cut!' and we'd be like 'yes!' and running back to finish our puzzle. It was fun."
My Sisters Keeper opens Friday.