NEWS
Cameron Diaz: Not a Man-Hater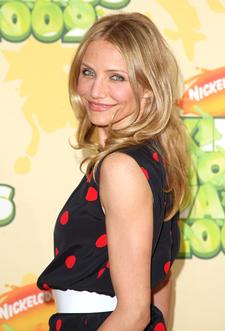 While Cameron Diaz most likely has her fair share of men ready to grovel at her feet, she's just as enamored with the opposite sex.
"Men are wonderful," she tells Parade.com in a new interview. I don't think my feeling about that is ever going to change. I'm never going to feel differently about men. I'm not a man-hater. It's just not in my nature. I think guys are amazing. I love the dichotomy, the differences in men and women. I think it's wonderful. It keeps things interesting. We can't walk in each other's shoes. We don't know what it's really like, but we certainly can make an effort to know each other a little bit better."
Article continues below advertisement
Cam's had a few past loves, notably Justin Timberlake, and she views each relationship as an essential experience in her life.
"I think that what I've found, in my experience, is that you always find the person who you're meant to be with at that time in your life. And what I've also found is that you have to move on from those people at certain times, because that's the way it happens," she reveals. "For me personally, there's nothing wrong with that. A lot of people find themselves trapped in something that they've outgrown and are unhappy. And they don't know how to get out of it because they think that they're supposed to make it happen."
Others might be counting the ticks on her biological clock, but Cameron is just as breezy and go-with-the-flow about having children as she is with everything else in life, it seems, saying that it doesn't bother her when people ask where the kids are or when she'll settle down with a family.
"I think that it's normal for people to ask that, especially of someone my age, because it seems like the obvious thing: 'Why haven't you done it?' It doesn't bother me. It's not the cross I bear. I'm not somebody who is going to declare either way if I'm absolutely going to or I'm absolutely not going to have children. I have no idea," she confesses.
"I'm still young. I have an unbelievable life."
And unlike other women in Hollywood who obsess over every single wrinkle, line and spot, Cam is ready and willing to age naturally.
"I don't have a problem with growing older. I really don't. I have no problem with it. It's wonderful," she admits. "Thank God we get older because if we're not getting older, we're dead. This is a much better option, to be getting older. And if we're not going forward, then we're stagnant, and we're stuck. And I've been stuck before. And I don't like it. It's not fun."