NEWS
Cameron Diaz Sets the Record Straight About Her Shorter 'Do: "I Love My Haircut!"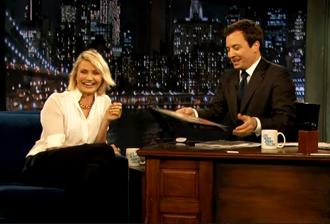 Despite what she said about "bursting into tears" when she saw her new, super-cropped haircut, Cameron Diaz admits that she totally loves her new look and is sick and tired of everyone making a big deal about it!
On an appearance on Late Night with Jimmy Fallon this past evening, the What to Expect When You're Expecting star set the record straight about what really went down the night she chopped off her longer locks.
Article continues below advertisement
"And I tell the story of how I burst into tears because I wasn't expecting it," Cameron added, "but then I love the haircut. I loved it afterward!"
Cameron went on to reveal that dozens of people contacted her hairdresser friend to comment on how she "ruined" Cameron's hair, even though Cam actually loved her new look!
"I find out a week later that everyone's calling my friend, who's the loveliest woman and the most amazing hairdresser," Cameron explained. "And they're calling her and saying, 'Are you okay? Are you all right? Do you want to do an interview about how you ruined Cameron Diaz's hair?' I'm like, 'What is wrong with people?' "